Personal account features
"Invoices" section
The default section shows unpaid bills. To see all bills or only paid/unpaid, you can use the filter.
Special options are available for each bill in the "Actions" submenu:
- Request quote;
- Show ;
- Pay (direct link to select the payment method);
              * If you have chosen the payment method previously, and it becomes necessary to pay the rent by other means, you will need to delete the old invoice and create a new one for the renewal of the service from the "Orders" section:
- Delete invoicet;
- Copy the link (link for payment without authorization).

For paid invoices there is an option to download the invoice ( invoice)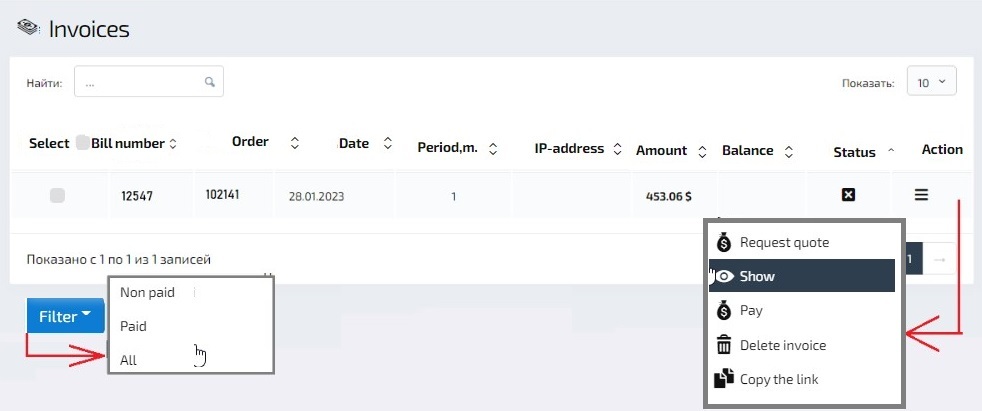 "Orders" section
This section reflects all existing orders (active and new).
The table briefly presents the main data on the order: order ID, rate plan, IP address, billing period end date, order cost and "Actions" submenu.
In the submenu "Actions" you can quickly go to :
- To all invoices related to this order - Bills;
- Create a ticket for this order;
- Order management (we will consider it in details below);
- Extend order (generates an invoice for payment to extend the service for the next billing period).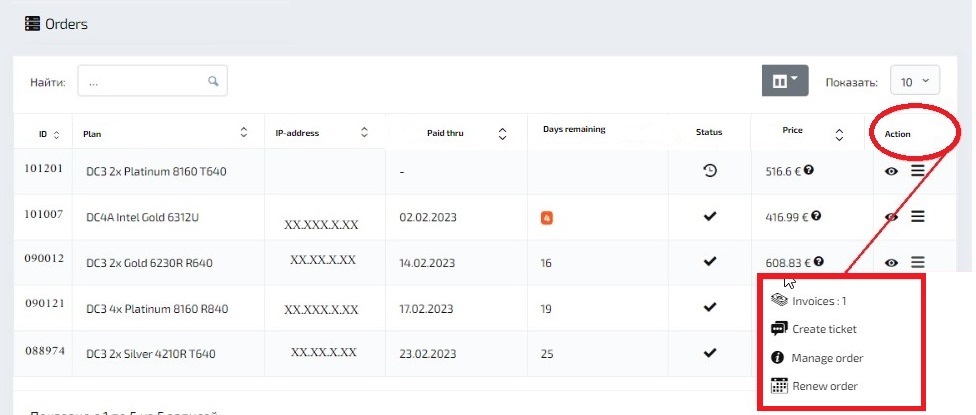 Order Management. Details.
In order management, the Details tab contains:
- Order parameters (server configuration);
- Description (the data for logging in to the server is presented);
- Server management (ability to disable/overload/block/enable the server);
- Link and login data to the server via IP-KVM if the server is accessed via IP-KVM;
- Ability to reinstall any listed OS on your server using the Reinstall button .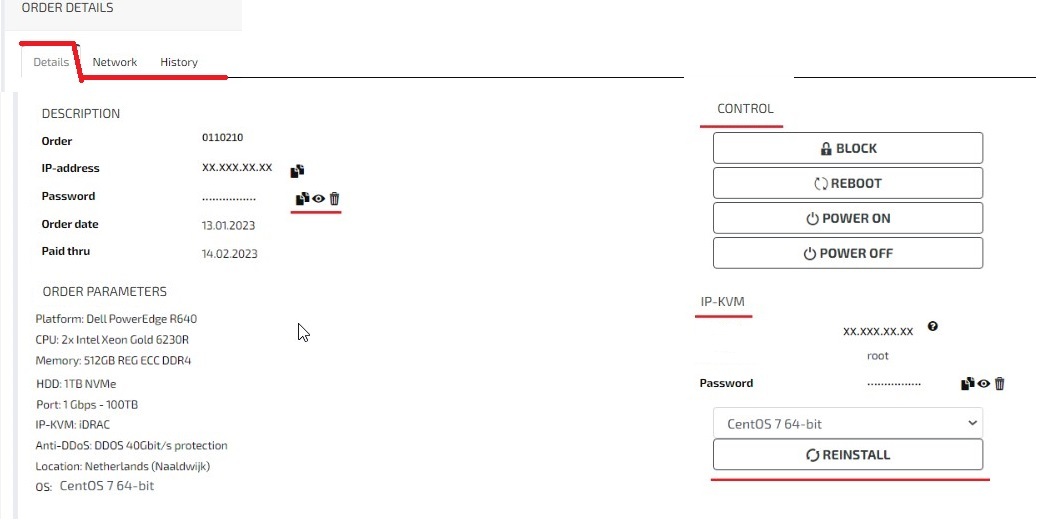 Order Management. Networking.
On the "Network" tab you can display: netmask / gateway / MAC address / Reverse DNS.
In order to prescribe or change Reverse DNS, click on the edit button.

 Order Management. Traffic
On this tab is available to analyze traffic for periods: day / week / month / year.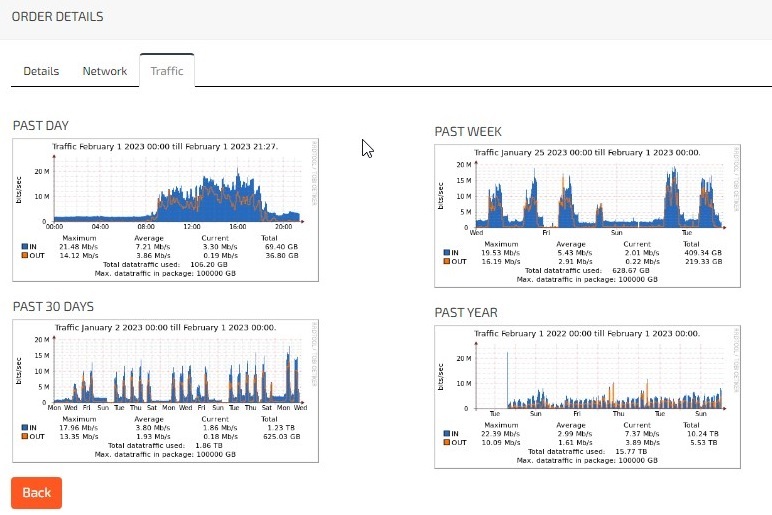 "Tickets" section
In this section you can view existing tickets related to orders.
On built-in tabs, you can filter tickets by category: open / closed / unread / add ticket.
Note that the ticket content is duplicated to the specified at registration or alternative email.

Add ticket
When creating a new ticket from this section, you should open the "Add ticket" tab:
- indicate the department to which the question is addressed (Technical or Financial);
- the subject of your ticket ( summary of the question);
- Importance ( Regular/ high);
- enter the order number related to this issue;
- in the "Message" field, describe the essence of the question / problem.
Click the "Add ticket" button.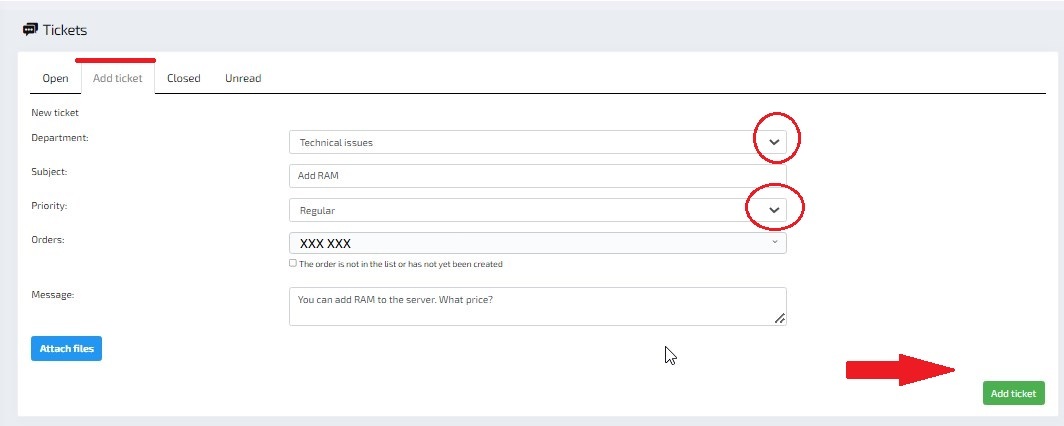 "Settings" section
In this section you can:
- to enable Auto-renew orders (with positive balance, service lease will be extended automatically at the end of the calculation period);
- change Currency, Language, you can add several alternative mailboxes (distribution of accounts/orders, technical tickets, general mailing lists to different email);
- configure enhanced security (use of a code word, limit the IP range for connections, display the last IPs that were logged into billing).

If you need to replace the main email, phone number, country, profile type, or address, you need to create a ticket to support the change of information in your account.