INTROSERV has adopted Apache CloudStack, one of the most innovative cloud computing platforms on the market
In the ever-evolving landscape of IT infrastructure, innovation and adaptability are paramount. Companies that understand this truth all too well, such as INTROSERV, are at the forefront of technological advancements. Specializing primarily in web hosting services, INTROSERV offers a wide range of dedicated, virtual, and storage solutions to meet the unique needs of its clients.
To sustain your business development, we searched extensively to identify the ideal platform for building a multi-tenant IaaS (Infrastructure as a Service) cloud offering. This endeavor addressed the growing demand for flexible, scalable, and reliable cloud solutions to handle diverse workloads and support managed hosting and application services. The chosen platform needed to encompass several key features enabling INTROSERV to deliver exceptional cloud capabilities to its customers.
Today, INTROSERV is proud to announce its adoption of the fully-featured open-source Apache CloudStack platform. This revolutionary hybrid cloud solution promises to redefine how businesses harness the power of the cloud, delivering unparalleled flexibility, security, and efficiency.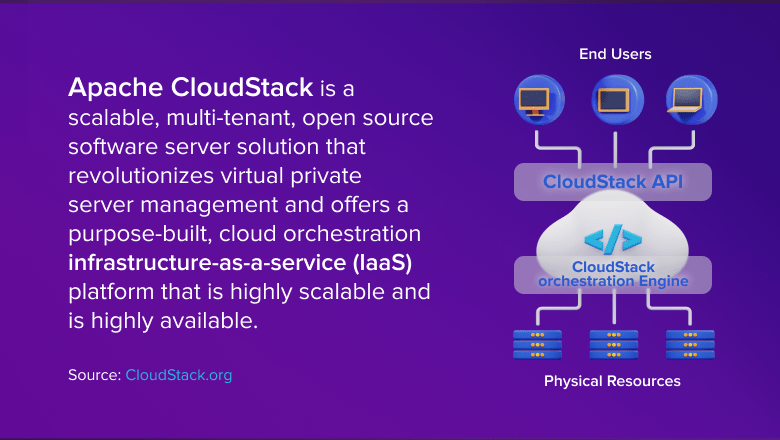 A key advantage of CloudStack is its ability to support hybrid cloud deployments. Thus, INTROSERV can integrate private and public cloud infrastructure seamlessly into a single platform. Using CloudStack's hybrid cloud solution, INTROSERV can offer clients a flexible, agile platform that meets their diverse needs.
In addition to the Web interface, CloudStack also offers command-line tools and a full-featured REST API for managing clouds. These tools provide developers and administrators with flexibility and control over their cloud resources.
Command-line tools offer a powerful command-line interface, allowing users to automate tasks and perform administrative tasks from the command line. The REST API, on the other hand, allows developers to integrate CloudStack with other applications and services, allowing for seamless integration and automation.
One of the key advantages of utilizing CloudStack is the ability to manage virtual machines efficiently. CloudStack allows INTROSERV to create, provision, and terminate virtual machines with ease, ensuring a user-friendly experience for its customers. This streamlined virtual machine management process eliminates the need for manual intervention, saving time and effort for both INTROSERV and its customers.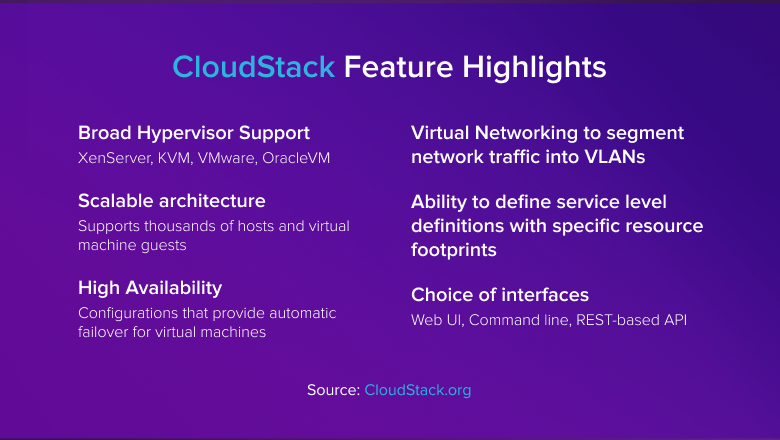 Key Benefits of Virtualized resources with Apache CloudStack
Easy orchestration of virtualized resources. With Apache CloudStack, INTROSERV can easily manage and orchestrate its virtualized resources, ensuring optimal performance and seamless scalability. This cutting-edge solution empowers INTROSERV to provide customers with a robust and scalable infrastructure, enabling them to leverage the full potential of the cloud.
The affordability of highly customizable infrastructure. One of the key benefits of Apache CloudStack is its ability to provide a highly customizable and adaptable infrastructure. INTROSERV can leverage the platform's advanced features to tailor its offerings to suit the specific needs of different customer segments.
Robust Security Features. Moreover, Apache CloudStack offers robust security features, ensuring that customer data and resources are safeguarded at all times. INTROSERV customers can rest assured that their sensitive information is protected, allowing them to fully embrace the cloud with confidence.
Unparalleled efficiency of resources usage. In addition to enhanced security, Apache CloudStack also delivers unparalleled efficiency in resource utilization. INTROSERV can leverage the platform's advanced management tools to optimize its cloud infrastructure, maximizing resource utilization and minimizing costs.
NTROSERV's move to an IaaS platform brings numerous benefits to its clients. A major advantage of IaaS is that it allows businesses to adapt easily to changing demands and resource requirements due to its flexibility and scalability. It also reduces overall costs and enables more efficient resource utilization by eliminating the need to invest in and maintain physical infrastructure.